What is Versa? Get RM10 Reward with Referral Code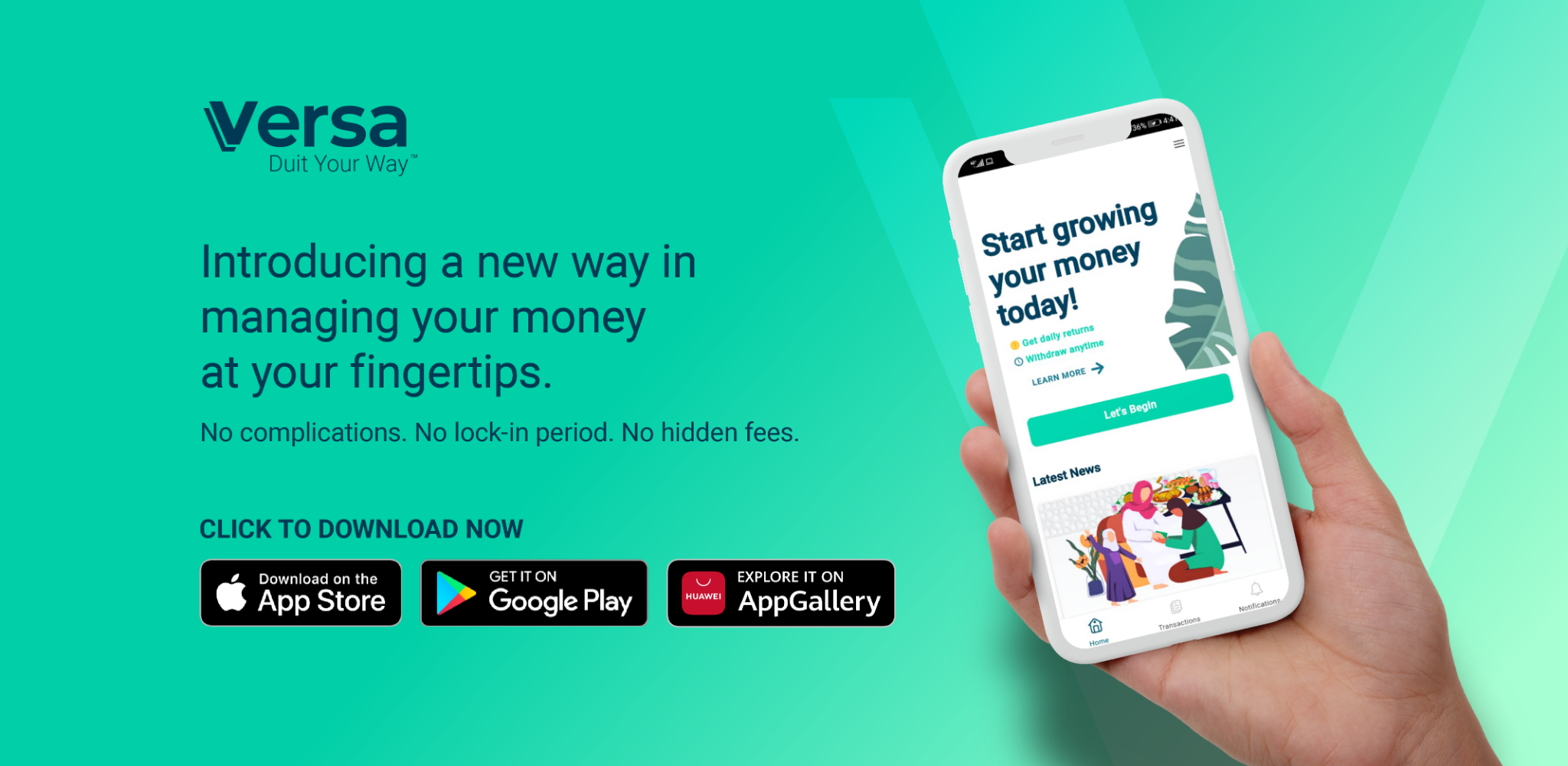 Versa, a digital cash management platform, is here to transform your sleeping cash into money-earning potential through return rates similar to the interest of a Fixed Deposit. With Versa, you can 'duit' your way and enjoy the freedom to withdraw your savings at any moment without penalties.

• Start saving with just RM1
• Earn FD like returns
• No lock-in periods, withdraw anytime
• No sales charges, no deposit/withdrawal or other hidden fees
Versa – Frequently Asked Questions
Is Versa safe and regulated in Malaysia?
Answer: Yes. Versa is regulated by the Securities Commission (SC) Malaysia under the following guidelines RECOGNIZED MARKETS SC-GL/6-2015(R5-2020).
Is Versa Shariah Compliant?
Answer: Versa's fund is not shariah compliant. Currently, Versa only allows investments into one money market fund, Affin Hwang Enhanced Deposit Fund.
Is Versa PIDM Protected?
Answer: Money market funds are not protected by PIDM. However, the Versa Fund places / diversifies our customer's funds in multiple short term deposits of multiple Malaysian banks. In an unlikely case that one bank were to go under, it would only slightly affect the return of the fund.
What makes Versa one of the best Digital Cash Management Solution providers in Malaysia?
Investing with Versa means choosing lower risks with potentially higher returns. Versa invests in a specific Money Market Fund called the Affin Hwang's Enhanced Deposit Fund which only invests in low-risk assets – short term deposits in multiple Malaysian banks. Next, Versa lets you make the most out of your money. Unlike Fixed Deposits which only offers basic interest, Versa offers interest that is compounded daily. Finally, you can make on the spot decisions with Versa. With Versa, you can withdraw anytime with all the interest earned and expect your money to be in your bank account within the next day* – with no penalties!
*Learn more about deposit & withdrawals here.
How to Sign Up Versa?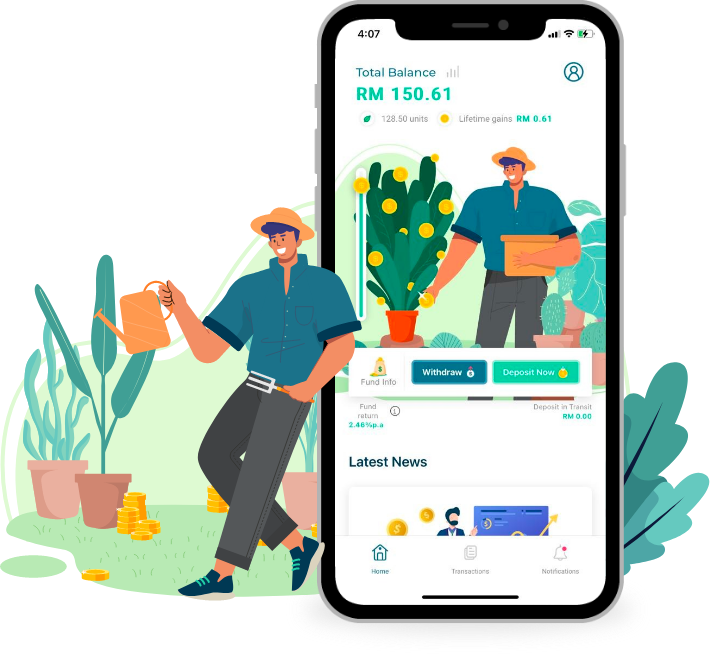 Get RM10 Reward with Referral Code
Sign Up now with the Referral Code
Follow these simple 10 steps and use our referral code JZQYJ8D6 to enjoy RM10 of Units. That's an instant 10% return on your investment.
Tap on this link: https://mypromo.my/versa
Download App and Tap to Open
Tap on Create Account
Key in your preferred Display Name and email address
Key in Promo or Referral Code: JZQYJ8D6 – Important Step for RM10 Reward!
Tap Create Account; key in OTP (sent via email) and Verify OTP
Set your Password 
Next steps are all about Verification

> Verify your mobile number
> Verify your identity via Identity Card photos and a Selfie
> Submit additional details 

Ok, all set and done. Now it's time to deposit money to your account. Start with minimum RM100 to enjoy RM10 reward.
Done. Versa will verify your account and will take up to 5 business day for amount to be reflected in your balance.  
Versa, Duit Your Way – Youtube
More on Versa: https://promocodes.my/tag/versa
Useful Links
**PromoCodesMy: One Stop Referral Center : http://bit.ly/ReferralCenterMy
Versa
Sign Up Versa with Referral Code JZQYJ8D6 and Get RM10 Reward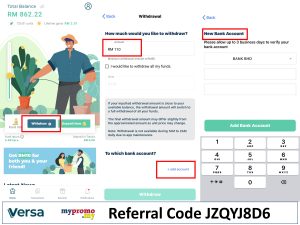 Wahed Invest
Sign Up Wahed with Referral Code liehue1 and Get RM20 Bonus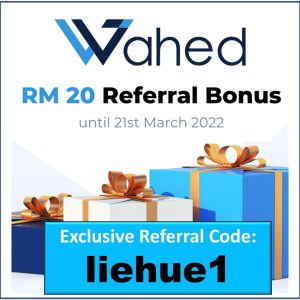 Shopee 5.5 Sale
Claim All Vouchers NowCodes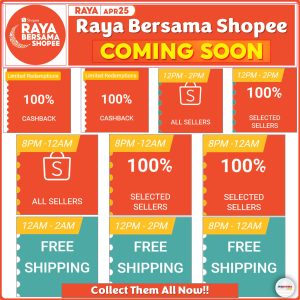 Shopeefood
Claim Promo Codes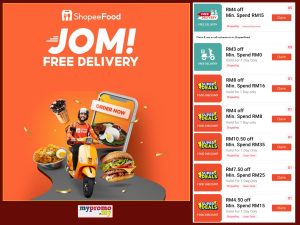 Shopee+ LazadaBank Vouchers
Claim Promo Codes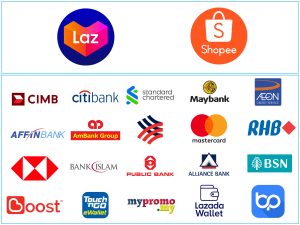 Malaysia Day's Food & Beverages Promos. Add some extra excitement to your Malaysia Day celebrations! Check out our food and beverage promotion . ...
Expand
Shop the best brands in Lazada this 9.9 Brands & Beyond Sale! Enjoy RM5 off min spend RM50 with our exclusive voucher! Upon checkout, key in the ...
Expand
Shopee每日将送出10% Rebate NOW优惠券,只需使用这优惠券购买10% Rebate Now 卖家的商品,就能获得高达 RM120 的折扣! 想更多的折扣? 往这看就对了! Shopee 只需按照这三个步骤 ! 前往 ...
Expand
Shop Lazada Now LazMall Super Brand Day x Abbott is happening on 26th August 2022! Enjoy super discounts with exclusive free gifts!👉 ...
Expand
Shop on Lazada Now Huawei x LazMall Brand SpotlightUp to 50% Off + FreebiesMain Page 👉 https://mypromo.my/lazada/huawei Special Deals on LazMall - ...
Expand
Shop Shopee P&G x Shopee Sale 22 August 12-2am Only👉 https://shope.ee/8zSz4bCoMq Up to 40% off! Hourly deals on Downy, Dynamo, Head & ...
Expand
LazMall Brand Spotlight x CasioShop Now: https://mypromo.my/lazada/casio Shop Lazada Now Deals: Voucher 20% Off Min Spend RM300 cap at RM120!15% ...
Expand
Shop Shopee Shopee Global Shopping Day - 18 August 2022👉 https://mypromo.my/shopee/GSD Save more this Global Shopping Day with 4 x Shipping & ...
Expand