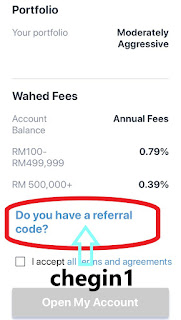 Wahed Invest: Sign Up and Get RM20 Reward- chegin1
Fixed deposit rates are so low right now Now, (FD) interest rate is lower than 2% especially for 1-6 months period.
On 5 May 2020, Bank Negara Malaysia (BNM) has announced a reduction of 50 basis point on Overnight Policy Rate (OPR) from 2.5% to 2.0%.
All banks will reduce their BR, BLR and other lending rates accordingly in tandem with BNM's directive.
OPR Down —> BR/BLR Down —> Saving/Fixed Deposit Rate Down
BNM reported pre-Covid-19 inflation rate at 1.7% (as at Jan 2020), this figure could have double or triple in reality now and in coming months. The value of our money is getting smaller and smaller.
Are you looking for another place to put your money with good potential for growth?
I am using Wahed, and I am very happy with the returns.
I started 4 month ago with RM100 and I add RM100 every month to my account.
So far I have earned RM61.69 profits from RM500 that I put in (+RM80 Referral Bounus).
You can't get that kind of returns from your FD.
Give it a try. Put in RM100 and you will get RM20 as a welcoming bonus. You can withdraw anytime with no charges.
Get
RM20 for free
if you sign up today with this referral code:
chegin1
*Wahed has successfully obtained regulatory approval from the Securities Commission Malaysia to offer digital investment management services in Malaysia.
Get
RM20*
(
previously RM40
) for free if you sign up today with our referral code:
chegin1
Follow these simple steps:
1. Download App: @Apple @Android
2. Fill in your email, password and answer questions for verification.
3. Answer 8 questions and get a portfolio recommendation.
4. Open an account: Fill in your details (Name, Birthday, Phone no etc)
5. IMPORTANT: Use * Referral Code: chegin1
* Kod Rujukan: chegin1
6. Verify your account with your Identity Card
7. Deposit minimum RM100
8. And that's it! Done. Monitor your money grow from your smartphone!
*Don't miss this step!
Wahed Invest offers Malaysians smarter way of Shariah-compliant investment portfolio. Wahed Invest is an America-based Halal-focused investment firm. It is the first robo-advisor aimed toward Muslim investors with a Sharia-compliant platform.
Wahed Invest is aimed at smaller investors looking for ethical investments, The company have successfully obtained regulatory approval from the Securities
Commission Malaysia to offer digital investment management services in
Malaysia.  You can now invest tanpa was-was.
Wahed Invest is the 3rd to officially enter the Malaysian market after StashAway and MyTheo.
An ethical review board monitors the company's investments to make sure
they agree with Islamic values. The investment companies cannot involve
liquor, firearms, gambling or tobacco industries, nor can they generate
excess profit from interest. The robo-advisor invests in Sukuks (Islamic bonds), U.S. stocks, emerging stock markets and gold.
Remember to Use Referral Code: chegin1
Sign up is FREE and you need only RM100 to start. You will get back RM20 if you sign up with us.
*Reward is now RM20 instead of RM40 starting 24 February 2020. But Wahed Investment is not skim cepat kaya. See your money grow is much more satisfying, trust me 🙂

Read more about Wahed Invest:
Thousands of clients from over 55 countries have started their journey with us. You too can put your money to work.
Wahed is the easiest way to invest your money in an Ethical manner wherever you are. You can start with just $100 with no long-term commitments whatsoever. You can place a deposit or withdrawal request at anytime.

Here's how it works:
1. Get a recommended portfolio based on your risk profile
2. Open your account and deposit seamlessly
3. Monitor your performance, we'll buy the investments for you automatically
Start saving for your future with this award winning and revolutionary digital Ethical investment platform – your phone becomes an investment portfolio management tool.
Wahed's robo-advisor custom tailors recommendations based on a simple risk assessment questionnaire with one main purpose: finding the right investment strategy for you! Your money will be invested in different funds such as global stocks, emerging market stocks, Sukuk, and gold.
Commitment to Ethical investing:
• Our investments are carefully screened for the presence of interest, as well securities with excessive debt ratios
• We do not invest in impermissible industries including alcohol, gambling, arms and tobacco, among others
• Our company and portfolios have been certified as Shariah Compliant by AAOIFI standards by our full time Shariah Review Board
Signing up is easy. Download our app, take the risk assessment questionnaire and make your deposit to join thousands of clients who are investing for their future.
wahedinvest.com
Watch Youtube video:
Disclaimer: "The views expressed in this post are entirely my own and do not necessarily reflect the official policy, position or opinion of Wahed Invest"
We help you save money at https://promocodes.my and https://mypromo.my
Useful Links
1. Sign Up with BigPay MasterCard and Get RM10 : http://bit.ly/SignUpBigPay
2. SignUp with HappyFresh, Get RM25 : http://chatwasap.com/790d04
3. BigPay, Dalam Bahasa : http://bit.ly/BigPayNow
4. Register EzCab Get RM5 Discount. >  http://bit.ly/GetEzCab
5. Sign Up with Boost; Get up to RM5 > http://bit.ly/RegBoostApp 
6. Register with DACSEE using this link: http://bit.ly/registerdacsee
7. SignUp with ShopBack get RM5: http://bit.ly/SignUp-ShopBack
8. Download Setel, Get RM5 : http://bit.ly/MYSetel
9. Sign Up Grab Get RM3 https://r.grab.com/grabsignupnow
10.Sign Up Razer Pay Get RM5: http://bit.ly/MYRazerPay
11. Reward: Get RM 15.00 off your next meal with foodpanda!
Link to sign up: http://bit.ly/foodpandamy
**PromoCodesMy: One Stop Referral Center : http://bit.ly/ReferralCenterMy
Please Like Our Facebook Page:

————————————————-
Like the www.promocodes.my? Please Click and Share
Versa
Sign Up Versa with Referral Code JZQYJ8D6 and Get RM10 Reward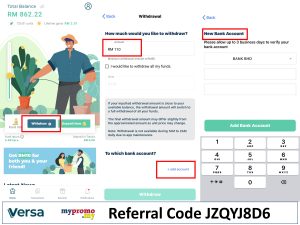 Wahed Invest
Sign Up Wahed with Referral Code liehue1 and Get RM20 Bonus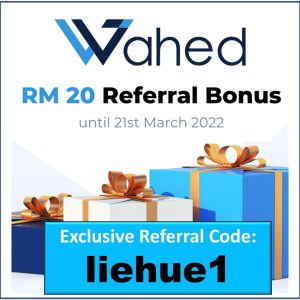 Shopee 5.5 Sale
Claim All Vouchers NowCodes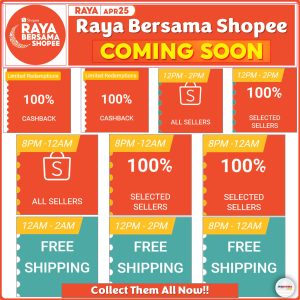 Shopeefood
Claim Promo Codes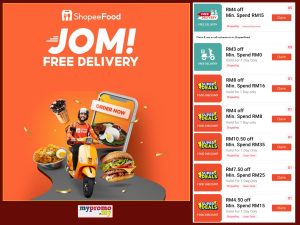 Shopee+ LazadaBank Vouchers
Claim Promo Codes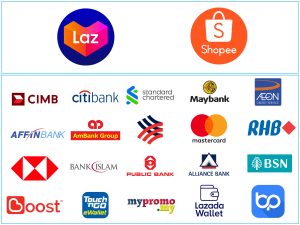 Find the latest exclusive foodpanda vouchers, promo codes, free delivery and best deals from your favourite restaurants in the Philippines. Enjoy ...
Expand
LazMall Super Brand Day x Nestle Coffee. Enjoy super discounts with exclusive voucher up to 20% Off + Exclusive Gifts.👉 https://mypromo.my/lazada/sbd ...
Expand
Malaysia Day's Food & Beverages Promos. Add some extra excitement to your Malaysia Day celebrations! Check out our food and beverage promotion . ...
Expand
Shop the best brands in Lazada this 9.9 Brands & Beyond Sale! Enjoy RM5 off min spend RM50 with our exclusive voucher! Upon checkout, key in the ...
Expand
Shopee每日将送出10% Rebate NOW优惠券,只需使用这优惠券购买10% Rebate Now 卖家的商品,就能获得高达 RM120 的折扣! 想更多的折扣? 往这看就对了! Shopee 只需按照这三个步骤 ! 前往 ...
Expand
Shop Lazada Now LazMall Super Brand Day x Abbott is happening on 26th August 2022! Enjoy super discounts with exclusive free gifts!👉 ...
Expand
Shop on Lazada Now Huawei x LazMall Brand SpotlightUp to 50% Off + FreebiesMain Page 👉 https://mypromo.my/lazada/huawei Special Deals on LazMall - ...
Expand
Shop Shopee P&G x Shopee Sale 22 August 12-2am Only👉 https://shope.ee/8zSz4bCoMq Up to 40% off! Hourly deals on Downy, Dynamo, Head & ...
Expand