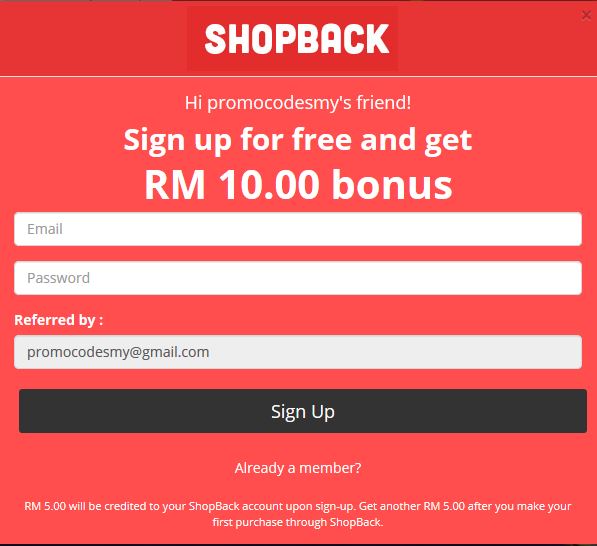 SHOPBACK – Get Cashback For All Your Grab and Uber Rides
Get Cashback on all your Uber and Grab rides, and take only the Cheapest Rides with Rides Comparison Function!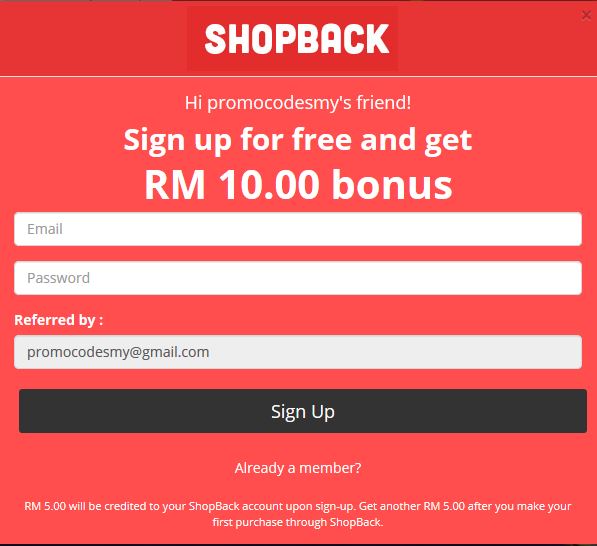 2. The link will lead you to ShopBack website and a pop-up like the above screenshot will appear. Fill in your email address and your password. Click Sign Up. Yes, that's it! Very simple sign up process.
3. Install ShopBack app on your smartphone.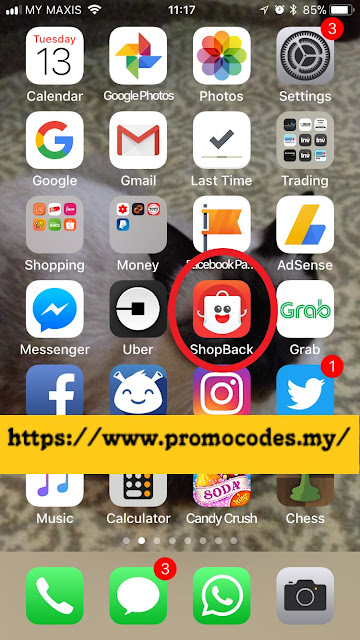 Here are the steps to get cashback on all your Grab and Uber Rides.
1. Click on the ShopBack Icon on your smartphone.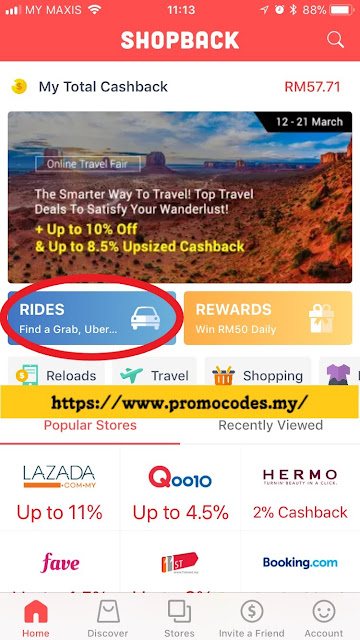 2. Click on RIDES (Find a Grab, Uber….)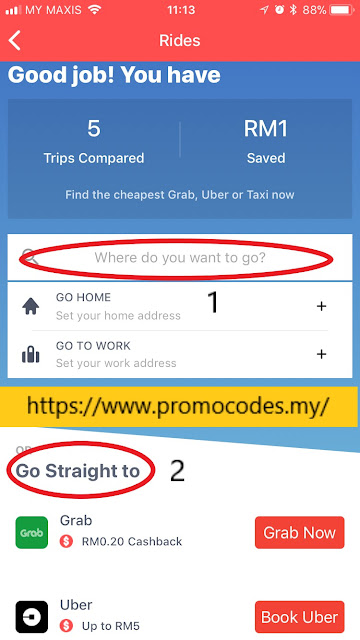 3. Now, you have two options to continue. Choose Option 1 if you want to compare rates between Uber and Grab. See which one is cheaper for you to take. If you choose Option 1, key in the destination you want to go.
If you do not wish to compare rates, choose Option 2 and go straight to either Grab or Uber.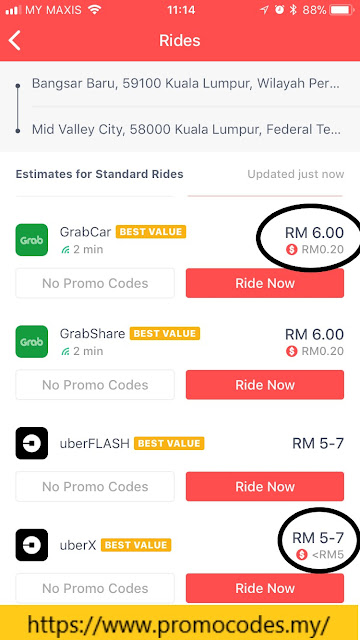 4. If you use Option 1, the above screenshot will appear. Compare the rates and pick either Grab or Uber by clicking on Ride Now.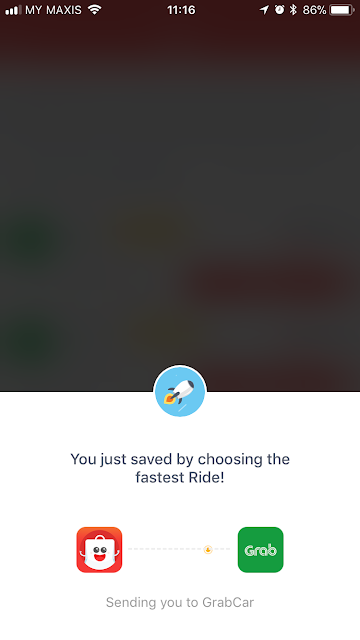 5. If you choose Grab, ShopBack will send you to Grab app. You will get RM0.20 cashback with this ride.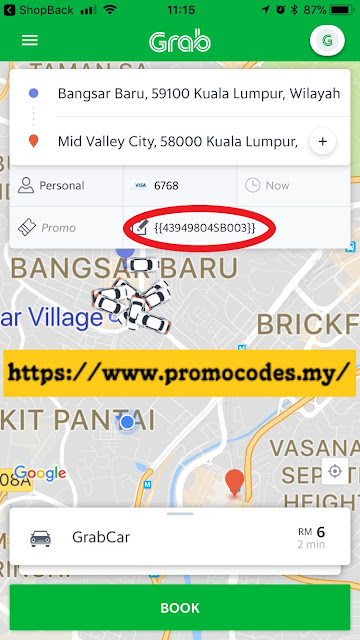 6. You will see a certain code on "Notes to driver" column. This is to
track your booking. Remember NOT to remove or delete the note/code. You
may also enter your promo code as usual.
No Promo Code? Check here for one that you can use >> https://promocodes.my/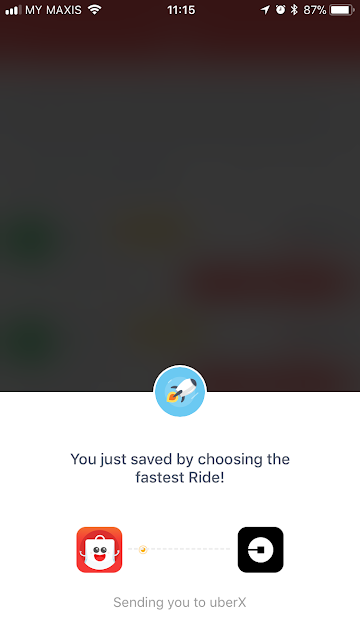 7. If you choose Uber, ShopBack will send you to
Uber app. You will get RM0.20 cashback with this ride. If you are a
first time Uber user, you will get RM5.00 cash back.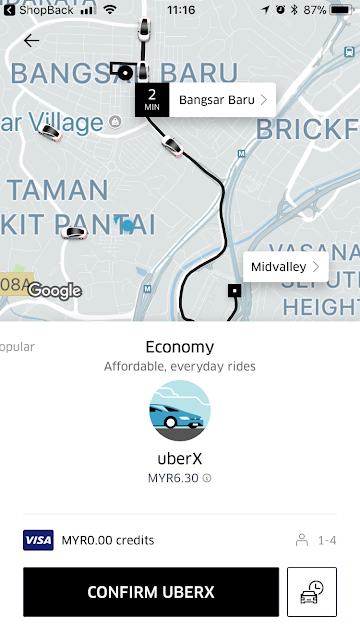 Get cashback when you ride. Register NOW!!
Sign up SHOPBACK for free and get RM10.00 bonus using this link bit.ly/SignUpShopBack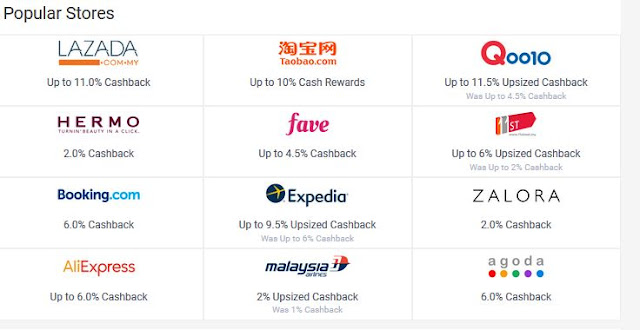 IMPORTANT! You can get cashback not only from your Uber or Grab Rides. You can also get cashback from your online purchases from STORES listed in ShopBack. Some of the Popular Stores in ShopBack are shown here. Don't forget to use ShopBack for all your ONLINE purchases.
Sign up > http://bit.ly/SignUpShopBack

Ride your first Uber ride for free worth RM15.


Like the promocodes.my? Please Click and Share


foodpanda
Senarai Promo Codes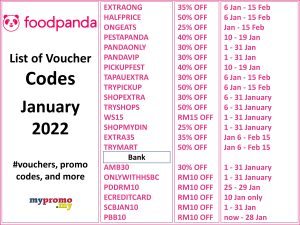 YouGov
Dapat 100 Point Pertama.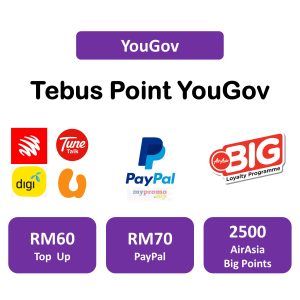 Enter info box description
Shopee Payday Sale 25.1 x Bank, Partners and Affiliate Vouchers. Collect these vouchers now and apply during check out on Payday Sale day! How to ...
Expand
Here's the CNY Zalora 2022 promo code List 2022. Main Page: https://mypromo.my/shop/zalora • Buy 3 Get 40% Off• Buy 4 Get 10% CashbackShop Here: ...
Expand
Sompo MotorNow - Roaring Into The Year Of Tiger. Celebrate this auspicious Chinese New Year with Berjaya Sompo insurance and get Ang Pow worth RM80 when you ...
Expand
Transfer Shopee 2.2 CNY eAngpow and win up to 8888 Coins. eHuat with ShopeePay & Win! Happening on 19.1.2022 - 24.1.2022 and 26.1.2022 - 31.1.2022. ...
Expand
ACCESSTRADE's company name is once again being misused in online scams! Therefore, we would like to re-emphasize that ACCESSTRADE MALAYSIA IS NOT ...
Expand
Shop at Shopee and Enjoy RM20 Off every Thursday when you pay with Public Bank Credit Card. Apply voucher code at check out to enjoy up to RM20 off and ...
Expand
Shopee 2.2 CNY Opening Sale is happening on 11.1.2022. Claim all these bank and Lifestyle vouchers now and apply at checkout on sale day. Copy promo code ...
Expand
I'm using BigPay and it's amazing! It's a powerful app that tracks your expenses and lets you manage your money in real time. More than a boring e-wallet, ...
Expand