JAG App: Sign Up and Earn Cash Reward
If you are active on social media, join JAG and become a micro-influencer! Get sponsored by brands you like and have opportunities to try new products, attend product events, get latest ads and promotions and earn real CASH or Cash Vouchers from stores like AEON, McDonald's, TESCO, Giant, KFC and more! Download the JAG App now to start earning!
Sign up:
1. Website
2. App Store
3. Google Play
Just 2 Steps:
1.Fill in your particulars.
2. Use this referral code: sengkor
That's it. Very simple sign up steps.
If you need help on how to sign up or how to complete activities:
WhatsApp us (BM/Eng): http://chatwasap.com/d17bf5
Next is, to check your account or app to see if you get new activities that you can perform to earn points. The activities are generally very easy to complete.
Activities that you may get:
1. Watch a video or advertisement
2. Copy and paste a prepared message and share it on your facebook, messenger or WhatsApp
3. Get friends to click on the link you shared.
4. Follow Instagram accounts.
Once you have completed the activities, you will earn points. See the picture below: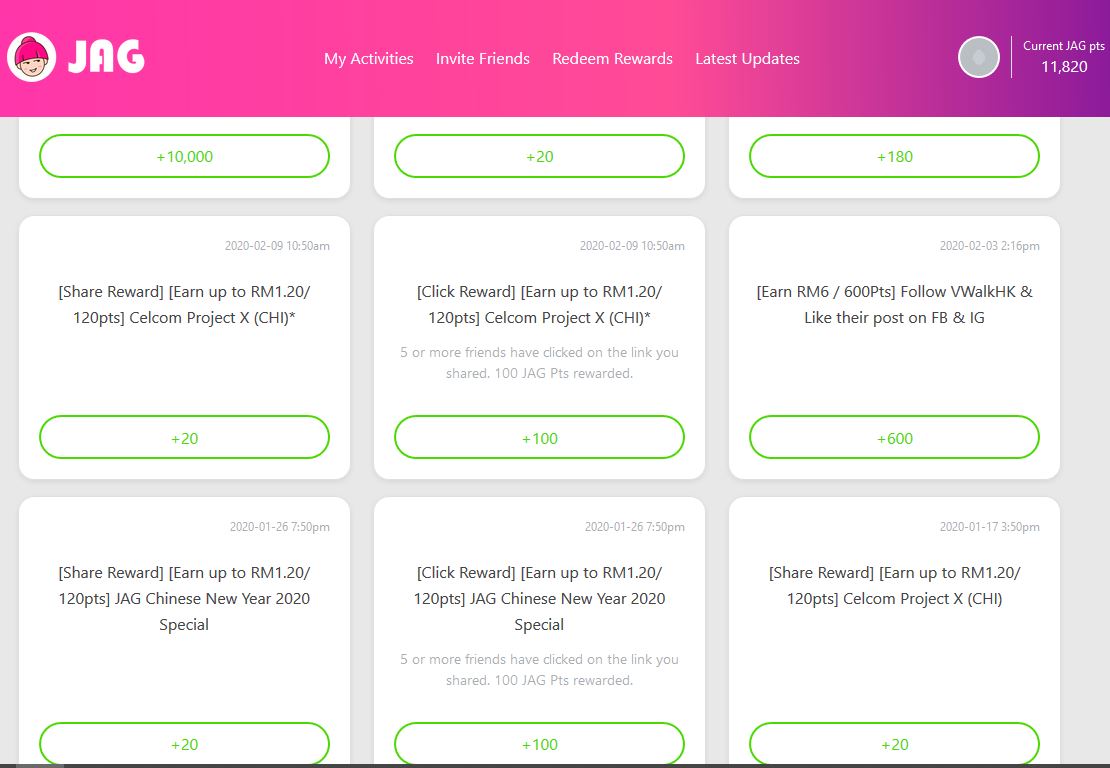 With the points you collected, you can redeem:
1. Boost Reload Pin (RM10, RM50, RM100)
2. Touch n Go ewallet Reload Pin (RM10, RM50, RM100)
3. Cash
4. e-Vouchers (Grab, Lazada, Tesco etc)
5. Shopping Vouchers (Aeon, BIG, KFC, McDonald's etc)
6. Reload (Digi, Hotlink, U-Mobile, Celom)
7. Donation
Start now: Use this referral code: sengkor and sign up!

We help you save money at https://promocodes.my and https://mypromo.my
Useful Links
1. Sign Up with BigPay MasterCard and Get RM10 : http://bit.ly/SignUpBigPay
2. SignUp with HappyFresh, Get RM25 : http://chatwasap.com/790d04
3. BigPay, Dalam Bahasa : http://bit.ly/BigPayNow
4. Register EzCab Get RM5 Discount. > http://bit.ly/GetEzCab
5. Sign Up with Boost; Get up to RM5 > http://bit.ly/RegBoostApp
6. Register with DACSEE using this link: http://bit.ly/registerdacsee



7. SignUp with ShopBack get RM5: http://bit.ly/SignUp-ShopBack
8. Download Setel, Get RM5 : http://bit.ly/MYSetel
9. Sign Up Grab Get RM3 https://r.grab.com/grabsignupnow
10.Sign Up Razer Pay Get RM5: http://bit.ly/MYRazerPay
11. Reward: Get RM 15.00 off your next meal with foodpanda!
Link to sign up: http://bit.ly/foodpandamy
**PromoCodesMy: One Stop Referral Center : http://bit.ly/ReferralCenterMy
Please Like Our Facebook Page:

————————————————-

Like the www.promocodes.my? Please Click and Share
foodpanda
Senarai Promo Codes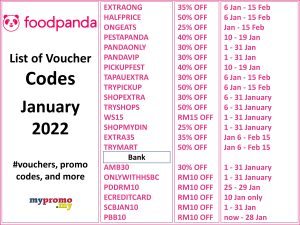 YouGov
Dapat 100 Point Pertama.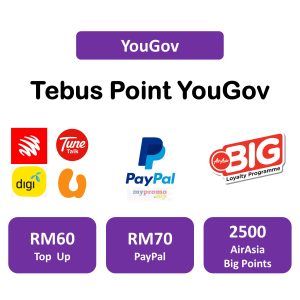 Enter info box description